"That the CIA may be in possession of the world's most highly classified vacuum cleaner blueprints is but one peculiar, lasting byproduct of the controversial U.S. detention and interrogation program."
—
Confined to the basement of a CIA secret prison in Romania about a decade ago, Khalid Sheikh Mohammed, the admitted mastermind of the 9/11 terrorist attacks, asked his jailers whether he could embark on an unusual project: Would the spy agency allow Mohammed, who had earned his bachelor's in mechanical engineering, to design a vacuum cleaner?
Read: AP Exclusive: The CIA and a secret vacuum cleaner
(via brooklynmutt)
LTMC: Sounds like a great plot lead for a new season of "24."  Where is Kiefer Sutherland when you need him?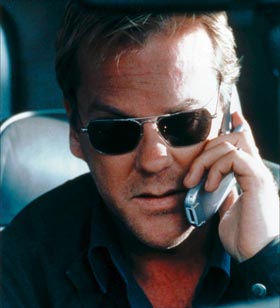 "Yes, this is Jack Bauer.  Get me the President.  We need to talk about a vacuum cleaner."
(via brooklynmutt)