Politics, Culture, Philosophy, and desperate appeals to the consciousness of mankind.
Twitter: https://twitter.com/#!/LTMC_Tweets
Ask me anything
August 26, 2014
Mr. Rogers makes us all look terrible.
August 26, 2014
Patrick the Wombat! World's oldest living wombat
LTMC: I had no idea wombats could get this big.
August 26, 2014
Miley Cyrus' VMA Date, Jesse Helt, Is Wanted in Oregon - NBC News
I hate headlines like this.  The kid pled guilty to misdemeanor trespass and criminal mischief, and did his time.  He hasn't done anything since except miss a meeting with his probation officer.  There's plenty of people with unpaid parking tickets who are also "wanted" by the state, but we're not assassinating their character on national news websites.
August 25, 2014
Israelis on Facebook wish death for Holocaust survivors against 'Protective Edge' | +972 Magazine
From the article:
Nope, it's not The Onion.

A few days ago some 300 Holocaust survivors placedan ad in the New York Timescondemning the massacre in Gaza. My colleague from Local Call, John Brown, has selected a few of the responseson Facebookthat Israelis posted in response to the ad.

I've translated a few from John's selection:

David Cohen: Those aren't Holocaust survivors those are probably collaborators with the Nazis.

Shmulik Halphon: He's invited to go back to Auschwitz.

Itzik Levy: These are survivors who were Kapos. Leftist traitors. That's why they live abroad and not in the Jewish State.

Vitali Guttman: Enough, they should die already. They survived the Holocaust only to do another Holocaust to Israel in global public opinion?

Meir Dahan: Now wonder that Hitler murdered 6 million Jews because of people like you you're not even Jews you're disgusting people a disgrace to humanity and so are your offspring you are trash.

Asher Solomon: It's a shame Hitler didn't finish the job.

Katy Morali: Holocaust survivors who think like this are invited to go die in the gas chambers.

Yafa Ashraf: Shitty Ashkenazis you are the Nazis.
The fact that there are Jews who can say this about other Jews—particularly Jews who actually endured what is generally regarded as the most catastrophic event in Jewish history—will never cease to cause me to shake my head.
August 25, 2014
Handcuffed Black Youth Killed Himself, Says Coroner - NBC News
Victor White was patted down twice, hands cuffed behind his back, yet somehow, he still managed to produce a gun in the back of a police cruiser and shoot himself in the back, according to the police report.  The coroner's report contradicts the police report, and says he shot himself in the chest.  Nonetheless, the coroner still ruled it a suicide, because it was possible that due to his "body habitus," Victor White could have theoretically manipulated a gun and shot himself from the front.  White's hands were never tested for gunpowder residue.  What a surprise.
This may actually be the most facially suspect police report and autopsy I've ever seen.  The parents should bring a § 1983 claim.  There's more than enough evidence here for a jury to award damages.  There's a clear 4th amendment excessive force claim to be made here, a 14th amendment Due Process claim, and also potentially an 8th amendment "cruel & unusual" claim as well.  So qualified immunity won't prevent the suit from going forward.
August 25, 2014
If you ever find yourself tempted to write something like this for the New York Times, just go back to bed. It's far more productive for you to be sleeping than to publish something like this. And it's far, far less likely that a ton of people will fault you for being asleep.

Because, you see, in this paragraph it sure sounds like you're suggesting that teenagers who live in a community with "rough patches," teenagers who push or scuffle with others, teenagers who write rap lyrics that are vulgar, teenagers who dabble in drugs and alcohol … well, those are teenagers whose deaths at the hands of the police we can somehow understand.

But, really, when an unarmed teenager is shot six times by a police officer after being stopped for walking in the street in a residential area, all the explanations about his behavior (which, if we're being honest, is pretty much exactly the sort of behavior that goes hand-in-hand with being a teenager) are just post hoc justifications for overzealous, racially-charged policing.
LTMC: What a lot of people don't realize is that you could write a similar summary of just about anyone's life.  I've "dabbled in drugs an alcohol," I've been in fights with other kids, and while I've never allegedly been "caught on a security camera" stealing cigars, in my youth I did steal the occasional candy bar from the corner store.  This was all true before I turned 18.  I went on to graduate with honors from a large university, followed by graduating with honors from law school and becoming an attorney.  It is incredibly dumb and misguided to summarize a person's value as a human being by only recounting the mistakes they may have made as a teenager.
August 24, 2014
"I have not seen any evidence of successful U.S. intervention to stop such violence [as is ongoing in Iraq] in our modern history."
—
Matthew Hoh, former State Dep't foreign service officer.  Hoh resigned in 2009 in protest of what he believed to be a counterproductive U.S. military presence in Afghanistan.
See Also: Bombs Are Medication For Guilt, Not Peace, In Iraq
August 23, 2014
This is Amir Alreqeb's first passport he got so he can leave Gaza to get treatment.
LTMC: A good example of what happens when you block shipment of medical goods into Gaza, bomb the only power plant in Gaza, and shell three different hospitals in Gaza until they're no longer suitable to treat patients.
See Also: Dead Children In Gaza Crammed Into Ice Cream Freezers As Morgues Overflow
August 22, 2014
Ferguson, Missouri Issues More Warrants Per Year Than They Have Citizens
Via Melissa on Twitter, here is a report written by the Arch City Defenders, a public defender office in the St. Louis area. It states that the population of Ferguson is 21,203 residents, and in 2013, the "Ferguson Municipal Court disposed of 24,532 warrants and 12,018 cases, or about 3 warrants and 1.5 cases per household."  Here is a screen grab of the relevant page of the report: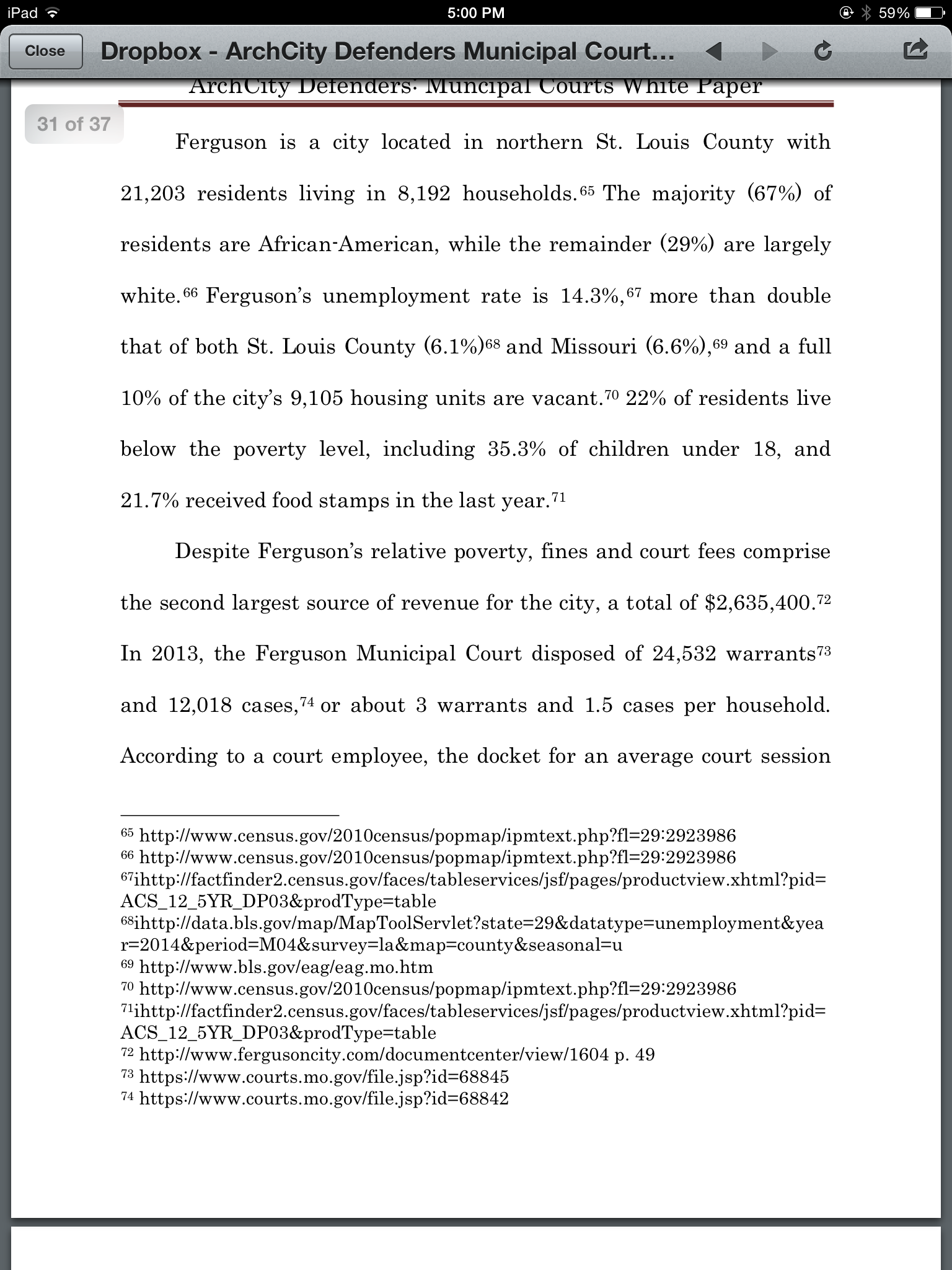 Ferguson is 67% Black, but most of its police force is mostly White.  I can't imagine how this might cause a problematic racial dynamic to emerge in such a heavily policed community.
August 22, 2014
Did Ferguson Cop Darren Wilson Suffer Broken Eye Socket in Struggle With Michael Brown? Apparently No.
According to CNN, Officer Wilson did not fracture his eye socket, as Fox News and others have reported:
Two days ago, Fox News ran an anonymously sourced story claiming that Darren Wilson, the Ferguson, Missouri police officer identified as the shooter of Michael Brown, suffered "severe facial injuries" including a broken eye socket during the altercations.

Now, CNN is saying that story is false. Here are tweets by producer Julian Cummings:

[…]
This is especially relevant to my recent discussion of The Gateway Pundit's irresponsible reporting about Officer Wilson's alleged injury, who continues to claim that Wilson did suffer a fractured eye socket, citing to a Washington Post article which mentions a "family friend" of Officer Wilson as the source.  And since the WaPo article confirms what The Gateway Pundit believes to be true, WaPo is obviously the more credible source, right?  
The fair and balanced thing to do in a situation like this is to simply point out that there are conflicting reports from different sources, which there clearly are.  And if it turns out that the CNN source is right, I'm sure The Gateway Pundit will do a follow-up post retracting his original statement.  I'm sure he'll get right on that.
just dropped a bottle of wine on the sidewalk

Ugh why must I be such a fuckup all the time.

andimthedad said:I've been following the situation in Ferguson as closely as possible. It is shocking. I've been wondering: where are all the anti-government pro-gun-rights people? For years, they've been predicting oppression of citizens through police militarization, and now that it's actually happening, they seem silent. Is this straight-up racism? Is this because it's not the federal government (e.g. Obama) being oppressive? Is this because the police aren't coming after them personally?

I've been thinking about what I want to say on this topic all day; it's been discussed to comedic effect on Facebook and Twitter, amongst the people...

Libertarian Bashing

A handful of people on Twitter (1, 2, 3, 4, 5, 6) and one at The Washington Post were outraged last night...

"

I'm heartbroken to see the Judaism of love and compassion being dismissed as 'unrealistic' by so many of my fellow Jews and fellow rabbis. Wasn't the...

"